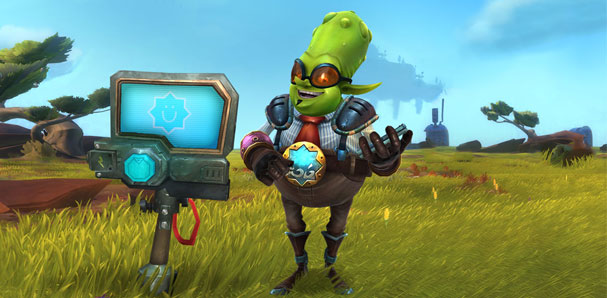 Today, Carbine team announced Operations Week, a new chance for all WildStar fans to jump into Nexus world! During the period between the end of Open Beta – May 18th and headstart May 31st, various Carbine teams will be preparing for the launch of WildStar, and players will be able to test final Release Candidate.
We still don't know when it will start, or how long it will last, but keep an eye on social media, and you'll know when the servers are up for testing.


Ops Week FAQ
When is Ops Week?
Ops Week (Short for Operations Week) covers the period between the end of Open Beta (May 18th) and headstart (00:01 PDT / 07:01 UTC May 31st).

… but it isn't a week.
Yes yes, details. At one point in the long long ago it was only a week, but as plans changed and evolved it grew, but the name stuck.

What is Ops Week?
During this time, the various teams around Carbine and NCSOFT will be preparing for the launch of WildStar and will be putting the final touches on everything. This means we will be testing various launch systems, practicing our disaster recovery processes, making sure our fail overs fail over correctly, and putting some extra testing on our final Release Candidate.

Who will get to play?
Everyone. We should be leaving the Open Beta key page up for the duration of Ops Week, and assuming the servers are available to play, you can join in. (We might have to take it down at some point – the point of Ops Week is flexibility). (EDIT: noon'ish PDT) Aaand it looks like that page might already be gone. No ETA atm.

When will the servers be up for Ops Week?
We aren't going to pre-announce the windows. As the teams decide that we need something tested, we will announce it on social media, and open up the servers for as long as we need in order to fulfill the testing.

How long will the servers be up?
It will be completely random. We might be only up for 1 hour, we might be up longer.

No really. When will you be up?
Most of these testing windows will be during business hours for PDT. There should at least be one overnight soak test somewhere in the week to test the new build.

New build? Is that the 500+ bug fix patch?
Yes and no, it's bigger. While we haven't finished the patch notes, it's everything we didn't get in from the last big deployment AND a significant amount of polish work and additional bug fixes we pulled in to make launch better.

Will these patch notes be localized?
It does not look like we will be able to get these patch notes localized. While our goal is to support all three languages with proper translated patch notes in the launched game (as much as possible, same-day hot fixes will always be tough), the audible we called to pull in a bunch of bug fixes and polish into the launch didn't allow our localization team enough time to translate the notes.

Will we get any rewards for participating in Ops Week? (Boom-Boxes, Stress Test title, etc.)
No. Getting unexpected free game time is the reward for Ops Week participation. As close as we are to launch we need to minimize the things we need to do, not create more things we need to track and execute on. (You'll also get the appreciation of everyone in/around Operations)

Will there be Customer Support during Ops Week?
Yes. We have trained staff across the globe, but we are doing our final launch hiring ramp and the new hires need the training and practice!

Will we actually get to play? Will the servers be stable?
We don't know. Some tests they might be. Other tests, like when we pull the plug on one of our major internet pipes in the data center (to test our failover processes), might be a bit rougher. Some tests might be us flipping the servers up/down/up/down/up/down in order to simulate launch stress on our Auth system (that won't be much fun). Our hope is that if the play experience is rough, you'll still be appreciative of the extra game time.

That doesn't sound fun.
No problem! Headstart is right around the corner. We'll see you then. This level of unpredictability isn't for everyone, and Ops won't hold it against you.

Will my characters be accessible from Open Beta?
At the beginning, yes. At some point we might open up other realms that you don't have characters on, and at some point we will do our character wipe. We aren't currently planning on wiping until the 29th or 30th, but we might have need for a last minute test post wipe.

Ohh, so will I be able to carry over my characters for any of those post wipe tests?
No. If we do any tests post character wipe, we will wipe a second time. That alone might cause us to not do any tests post-wipe!

Will you be increasing the level cap again for Ops Week?
No. Extra free game time is the reward!