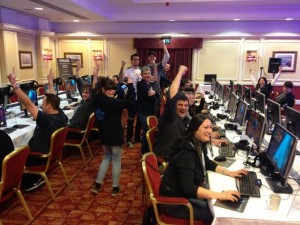 I was able to finally realize that we are going to play Wildstar in the next 24 hours while boarding the airplane that will take us to London. Hours before that were filled with preparation, working on getting the last bits of Wildstar Life ready and general pre-travel anxiety, so I did not take the time to saver the fact that we are going to be among the first few thousand people in the world to play this great MMO.
Heathrow, London, is where we met up with people from other fansitest and what followed during our drive to Brighton hasn't stopped throughout this whole experience so far – constant talk about Wildstar. Guys from http://www.wildstaronline.de/, a couple from gamegate French gaming portal and Wildstar RP French Forum owner were all riding with us and we covered everything from what will we see during the event up to what kind of payment model should Wildstar adopt.
We arrived to a surprisingly sunny Brighton and got settled in a seaside hotel. We just had enough time to gather ourselves before going down into the conference room where we finally got to meet all the attending Carbine and NCSoft staff. Next several hours made the following abundantly clear – they are very enthusiastic about their game and they were genuinely excited about things that were happening. Yes, there was gameplay, but, I have to tell you, we spent a lot of time just talking to the devs and picking their brains about all the different mechanics we were seeing. I was very surprised by the fact that once you sit down and play the game it exceeds any expectations you had and playing it live, instead of watching videos of it being played, is much better than I anticipated. In the end, we were treated with killing a "world boss" Metal Maw. Killing this monster, that was initially created by the community, during a community event, in presence of the people that created it, made my day.